Uh oh. Looks like Ann Althouse is done for, what with stirring up a ruckus about UW's Think.Respect propaganda beat them until they are kind Freedom for Warm Fuzzies program. The crack Java Zen Table, Desk and Counter Intelligence Team has intercepted a "bias-related incident form" on its way to the UW's Office of Central Coercion.
Guess I should feel good that my alma mater only has to deal with the likes of Ward Churchill.
Offices of the Dean of Students
Student Advocacy and Judicial Affairs (SAJA)
Bias Incident Reporting Form
A bias incident is a threat or act of bigotry, harassment or intimidation – verbal, written or
physical – that is personally directed against or targets a University of Wisconsin-
Madison student because of that student's race, age, gender identity or expression,
disability, national or ethnic origin, political affiliation, religion, sex (including pregnancy),
sexual orientation, or veteran status.
Please include as much information as possible. Incomplete or inaccurate information will delay
processing of this report and may compromise our ability to quickly and effectively respond to this report.
Description of incident (attach separate sheet if necessary):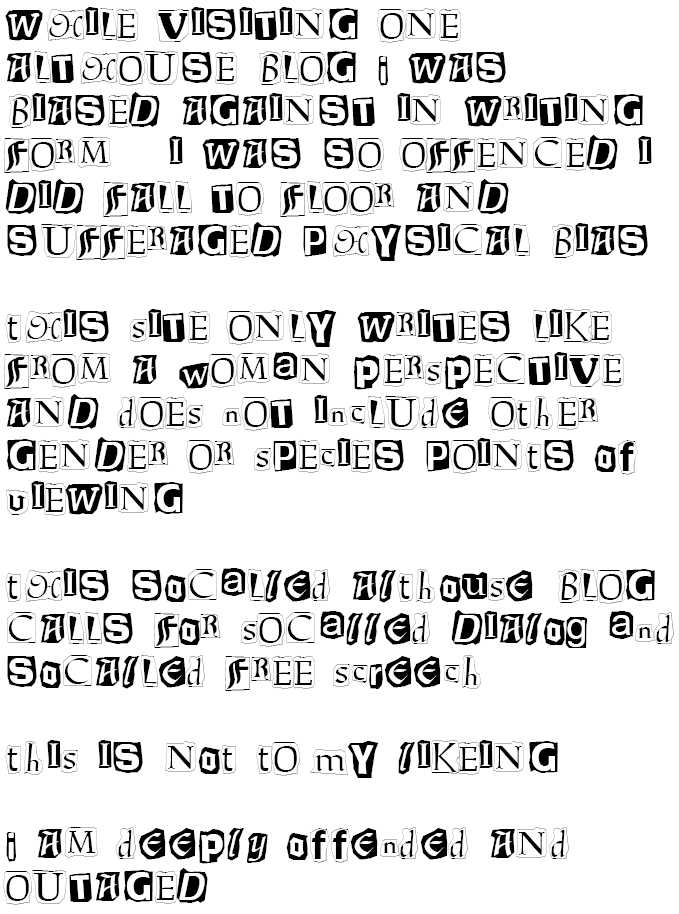 Area where incident occurred (please provide as much detail as possible):

Date and time of incident:

Victim name(s), if known (please indicate if victim is a UW-Madison student):

Your name, e-mail address, and phone number:
Would you like a SAJA staff member to contact you? ____ yes ____ no

Thank you for taking the time to submit this report and helping to improve campus climate at UW-
Madison. All reports will be reviewed in a timely manner. If you would like to provide further information or
speak with a SAJA staff member about this incident, please call (608) 263-5700.
Please submit this report via campus or US mail to:
SAJA
75 Bascom Hall
500 Lincoln Drive
Madison, WI 53706