The Columbia 70 – Calling It Like They Don't See It
They keep telling us, dissent is the highest form of patriotism: Statement of Dissent From CU-FAC Statement, 61 Columbia Professors dissent from the 70 Columbia Professors' statement criticizing Lee Bollinger.
To paraphrase the Columbia 61's points:
1. The faculty is not supreme ruler of the university and need not be consulted on university budgetary and enrollment issues.
2. Contrary to the Columbia 70's position, the university does have a responsibility to the wider community, in addition to its students, alumni and donors.
3. The Columbia 70's logic suffers from scope creep as obvious as Rosie O'Donnell spilling over a size 4 bikini (apologies for the imagery, but it…um…fits.)
4. President Bollinger provided exactly what the Columbia 70 claim he didn't.
Where, exactly, did the Columbia 70 acquire their skills at logic and analysis? Are a sizable portion of academics still busy contemplating their navels? If they had any ability to view themselves critically – potential damage to their self esteem notwithstanding – and consider the larger world then perhaps their views would have been better informed. Unfortunately for Columbia and their students, the Columbia 70 appear capable of little more than rear-search.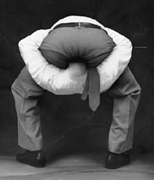 Not unlike the Duke 88, the Columbia 70 presume to speak for all those who have remained silent, until now, that is. It's easier to tolerate the likes of the Columbia 70 when they stare at their navels. At least then they were somewhat sympathetic. Now they're just laughable.
(H/T: The Volokh Conspiracy)