Laptops For Less Bait And Switch
Interesting bait and switch from Laptops For Less. Here's what you see when you first hit the site: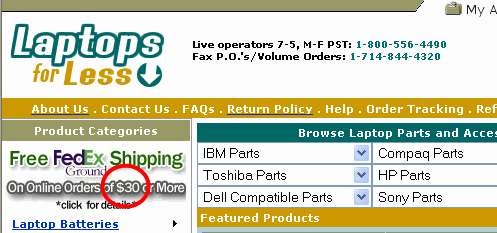 Note that the claim is for free shipping on orders over $30. Coolness. I need a replacement power cord for an ancient Compaq. But then notice what happens when you head on down the checkout path: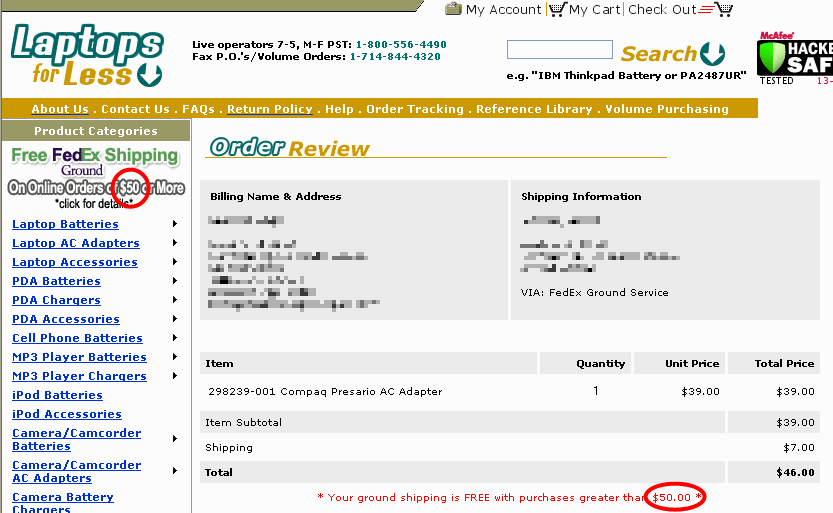 Well how about that! My over $30 order is charged for shipping and the LFL website now shows free shipping on orders over $50. "Click for details" makes no mention of the $30 threshold, just the $50 threshold. I ordered the power cord from MobileTechPower.com which also charged me shipping but were upfront about the charge. In fact, the item was $8 less expensive overall from Mobile Tech Power.
¯¯¯¯¯¯¯¯¯¯¯¯¯¯¯¯¯¯¯¯¯¯¯¯¯¯¯¯¯¯¯
Posted by GPE @ 3:01 pm
Comments are off for this post
Tags:
Business