Except when it does. The Truth defined by Claudius Ptolemy stood for some 1,400 years before the Truth defined by Nicolaus Copernicus ground Ptolemy's cosmological Truth to dust. The Truth had changed. When one Truth, however, stands as long and has as deep a roots as Ptolemy's, it can take a great deal of time to be eroded by the new Truth. Such was the case with Copernicus' Truth. When so many of a society's beliefs have been built upon a particular Truth, society is loath to relinquish the old Truth in favor of the new.
It is the same for personal beliefs and what each of us perceive as the "Truth." An attorney friend of mine leverages this inertia when questioning witnesses in court. He begins with "Would you agree the Truth never changes?" The answer to this question is usually "Yes." The one exception I know of was when this question was asked of a research MD expert witness. Science types, if they learned the idea of science at all, know the Truth changes. But the average bear believes the Truth, as they understand it, is as solid as a block of stone. My attorney friend then skillfully guides the witness into acknowledging the Truth of the case he is presenting. It's a beautiful thing to watch.
When the battle is between one who knows the Truth changes and one who believe it does not, my money is on the one who knows they are dancing on quicksand.
There are, of course, areas of human experience where the unacknowledged absurdity of immutable Truth make the experience what it is. Take this for example…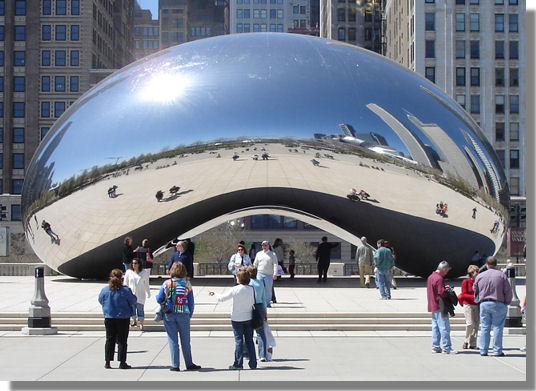 It's "The Bean", as the locals call it, in Chicago. I took this picture last week while there on business. Is it art? Does it reveal a Truth to you?
Most of the visual arts are lost on me. I know what I like. Asian calligraphy and the works of David Lee and Frances Ku are particular favorites. But "The Bean" wasn't revealing any Truths for me that day. That is, not until I looked no further than my own feet. There it was. The Truth revealed just as clearly as if it had been, well, chiseled in stone.

It's a commercial. (I did say most of the visual arts are lost on me. That's probably why I play piano and cello rather than muck about with paint or clay.) But what about this…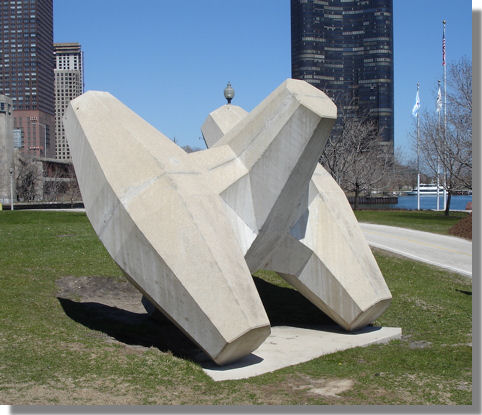 Found this after wandering East on Wacker to Lake Michigan. Again, no Truths were revealed, not even chiseled in stone. But I do know it had puppies…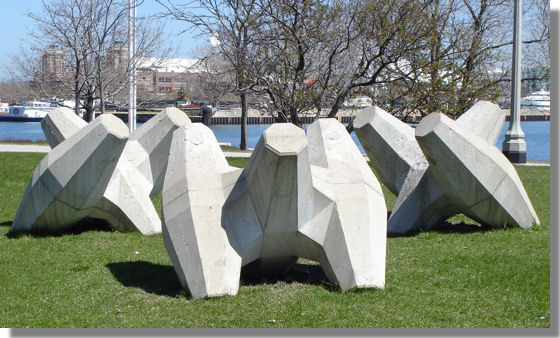 I shall leave the subject of Truth from Art alone and instead focus on the Truth that drives, reassures and comforts most of us. It's the Truth of "reality." But here again, there is an often unacknowledged contamination of subjectivity. There is the Truth of facts and the Truth derived from those facts, the interpreted Truth.
Just West of where I live can be found baked into the stone footprints from some long dead giant lizard. Virtually everyone agrees to this fact. The footprints are there. The creature, and any such creatures like it, have long since vanished from the planet. Where the Truth of these footprints becomes schizophrenic is in how the fact of those footprints are interpreted. My interpretation, and the resulting Truth I carry around, says those footprints were left there millions of years ago. Others interpret those prints has being no older than a few thousands years, what with the Earth not being older than some particular reference claims. A single Truth of fact with two associated, yet incompatible interpreted Truths.
A popular and politically correct Truth to hang your hat on these days has to do with global warming and whether or not it's an established fact. My read is that it isn't. Man's experience with the weather is just too small a window from which to claim having any kind of clear view of what the global climate is doing. One hundred years ago, some scientists and much of the press was all abuzz with claims that the next ice age had begun.
I believe it is a good thing to reduce the amount of pollution we, as a species, spew into the atmosphere. I've believed that since high school when the high pollution alerts in Denver, compounded by the city's infamous temperature inversions, left the air smelling like a sewer for weeks. Today, even with the population having growing significantly, the air is much cleaner. The global warming hysteria has not deepened my conviction in this regard.
So Al Gore is burning tons of jet fuel to haul is ass around the globe in order to set up circus tents and parade his "An Inconvenient Truth" dog and pony show. (Sidebar: When was it the Academy created a slide show category for it's award?) I'm left with several questions. Who's Truth is Gore selling? Inconvenient for whom? How can such a complex issue contain just one Truth? Frankly, I don't think the Earth gives a damn about us. 4 billion years ago it was a sea of molten rock with no atmosphere. Life has been wiped clean from the surface and recreated anew probably more times than we know. The hysteria about global warming is a self-serving one and those on Gore's band wagon are more interested about their own skin that saving the planet. The planet will save its self and will do so with the same indifferent cruelty and violence from which it began.
Listening to Gore and his evangelists leaves me with the creepy feeling that the solution to the "problem" of global warming is for others to solve (usually through some sort of sacrifice) so that they can continue living the life to which they have become accustom. (Man, are they going to be pissed if some killer asteroid is discovered for which they can't buy impact offsets.) Setting the problem to rights, assuming it exists, will take something Al Gore and the eco-elites are apparently incapable of: An Inconvenient Effort.
[Edit History]
2007.05.01
Interesting article from ScienceDaily ("Earth's Climate Is Seesawing, According To Climate Researchers") illustrates my point about our window to the nature of Earth's climate being rather small. For all their credentials, the scientists really don't know for sure what is happening with the climate. Those that claim to be sure, probably aren't honest scientists. (H/T Bryan at Hot Air)
2007.05.02
Added link to David Lee's work at Lahaina Galleries.